What is Coaching?
At Weatherhead, coaching starts with the knowledge that adults change their behavior when they want or need to change. The motivation and readiness to develop personally or professionally comes from within the individual, not from external sources. A coach helps his or her clients identify the underlying motivations that guide their behavior and helps them craft a plan for development and change.
Your relationship with your coach means a safe place for reflection, a path to increased self-awareness, and a source of positive support. Your coach will help you craft a vision; analyze current competencies, behaviors, and learning style; and determine steps to implement the changes you seek.
Could I Benefit from Coaching?
A coaching relationship might be beneficial if you answer "yes" to any of the following questions:
Are you trying to make a change either personally or professionally?
Would you like to enhance your effectiveness as a leader?
Are you trying to help an employee with a change they would like to make?
Could you use some support for the changes you seek?
Have you made changes that you find difficult to sustain?
Coaching is an integral part of professional development at Weatherhead. At its core is the Intentional Change Theory, developed by Richard Boyatzis, PhD, for creating lasting, desired behavior change. Our coaches are skilled professionals, and have helped hundreds of clients learn, grow and change in ongoing and sustainable ways. Could a coach be of help to you or someone in your organization? Weatherhead coaches have expertise in leadership development, Emotional Intelligence, development coaching to prevent derailing and transition coaching/on boarding and up boarding. They work with individuals and also with groups or teams. Weatherhead coaching is holistic and with a focus on the "whole person."
Learn more about this research-based, proven approach and explore classes where you can learn the skills to coach others.
Discover how coaching at Weatherhead will inspire you to make lasting, intentional change. Learn More.
The Process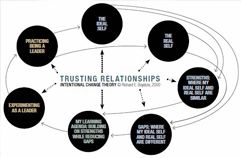 Coaching begins with an exploration of a person's "ideal self," including reflection of core values and aspirations for work and life. This introspective work gets expressed in a personal vision statement which creates the foundation for the rest of the process. Next, 360-degree feedback is gathered as a means to assess the current state relative to the vision. Coaching typically includes at least four sessions over a four-to-six-month time period. These meetings are usually held via telephone, though face-to-face meetings are possible if it is mutually convenient for both parties. In general, your coach will initiate the process by exploring your vision and aspirations. The next one or two meetings generally focus on analyzing your 360-degree feedback data and creating a learning agenda. The last set of discussions center on implementing the plan and sustaining the learning and change beyond the coaching experience.
Cost
360-Degree Assessment and Four Coaching Sessions: $2,500

The cost includes the book Resonant Leadership: Renewing Yourself and Connecting with Others through Mindfulness, Hope, and Compassion by Dr. Boyatzis and collaborator Annie McKee, and the accompanying workbook Becoming a Resonant Leader: Develop Your Emotional Intelligence, Renew Your Relationships, Sustain Your Effectiveness, as well as a year of Pathfinder, an online personal development tool that provides support in applying 360-degree feedback.

Eight Coaching Sessions: $4,500

Twelve Coaching Sessions: $6,500
For more information about Weatherhead Coaching or to hire a coach, contact Mindy Kannard at mindy.kannard@case.edu or at 216.368.1503, or Sharon Norris at sharon.norris@case.edu or at 216.368.5149.