Weatherhead Executive Education offers organizations the opportunity to gain access to all one and two-day programs at a significantly reduced price through the Affiliate Partnership program. Affiliate Partners are organizations looking to expand the capabilities of their employees and their organizations' capacity for growth. With corporate executive education packages ranging from 15 seats to 120 or more, it is easy to become an Affiliate Partner.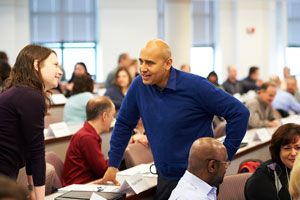 I've always been impressed in the quality of learning that Weatherhead condenses into a one or two-day session. The Affiliate Partnership consistently delivers a higher level of applicable learning than what we've experienced in similar formats.
— Manager of Talent and OD, Dealer Tire
Is the affiliate partnership program right for your organization?
You may consider becoming an Affiliate Partner and purchase a corporate package if:
You can identify four or more high potential individuals who could benefit from a certificate program
You would like to add a low cost benefit that recognizes your employees and rewards them for excellence
You would like to create opportunities for your employees to grow, so that they can move into new roles and contribute in new ways
You have specific development goals, or organizational goals, that education may help to support.
Corporate Executive Education Package Options: