Often, organizations wish to deliver quality professional education to large numbers of employees but are restricted by location in their choice of programs. Distance learning can help. The Weatherhead approach to distance learning combines outstanding content, facilitation support, and complete flexibility.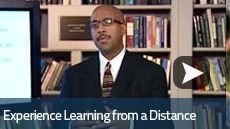 Watch a brief sample of our distance learning program on emotional intelligence.
Is your organization looking to:
Build individual and organization-wide competencies?
Make top-notch professional development opportunities available to a large number of employees?
Extend learning to leaders, managers, and beyond?
Support individual and organizational growth?
Maintain cost effectiveness throughout the process?
Programs
Participants in this program will learn the power of resonant leadership and understand how EI (emotional intelligence) is more important than IQ for outstanding performance.
The Weatherhead Approach
Facilitated Distance Learning
We invite organizations to partner with our Weatherhead faculty to deliver top-ranked content at a distance. To maintain the best of what makes learning experiential and interactive, our model builds in facilitation for group participation.
Interactive Delivery Method
Through a web-based platform, organizations are given access to video content, complete with a guide for facilitators, course materials, and access to additional resources. This approach equips you with the tools to engage learners through activities, reflections, and dialogue.
Extended Learning
The Weatherhead Distance Learning Series is intended for organizations that would like to extend learning beyond their leaders and managers to a wider audience. The economy of the model allows organizations to develop talent beyond a narrow band of leaders.