Who We Are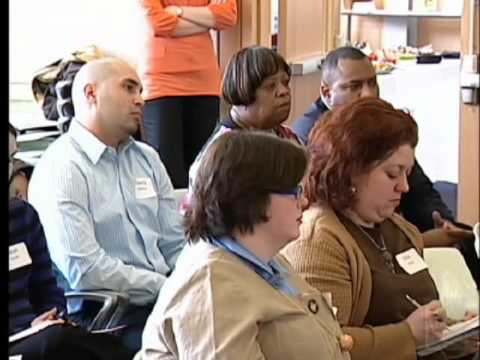 The Treu-Mart Youth Development Fellowship Program at Case Western Reserve University is a capacity-building initiative aimed at increasing the ability of youth-serving organizations in Cuyahoga County to attain positive outcomes for the youth they serve.
The Fellowship was initially designed to increase the ability of individual youth-work professionals to meet the diverse needs of youth and to support their resilience through an intense development experience that includes classroom instruction, coaching and peer-to-peer support. Approximately 150 individuals have completed Fellowship programming—sponsored by nearly 100 organizations/organization sites.
In the interest of having a greater impact on youth-serving organizations, the Fellowship now targets efforts toward fewer organizations with multiple Fellows from each organization. The Fellowship has also extended programming so that best practices in youth development are embedded into organizational practice.
What We Do
Currently the Fellowship is partnering with five organizations that are committed to improving positive outcomes for youth and who view the development of their staff as critical to achieving these outcomes. The Fellowship provides professional development and supports that are based on research and best/promising practices. Programming is framed by concepts of resiliency, positive youth development, resonant leadership and Intentional Change Theory. Partners work closely with Fellowship staff to tailor activities and supports to best fit their organization's mission and purpose.
The approach is multi-faceted and includes:
An intensive professional development experience for a team of individuals (Fellows) from each organization
Professional development and support within each organization
Development and implementation of a plan that provides a roadmap to positive outcomes for youth for each organization
Design and measurement of outcomes for Fellows, organizations and youth
Coaching and facilitation
This is an 18–24 month process with significant support at the beginning of the first year, decreasing in the second year as organizations and individuals need less external support to accomplish their goals.
After completion of Fellowship programming and supports, organizations will have established a community of practice within their organizations, as well as networks of support external to the organization that will sustain this work.
How To Get Involved
For more information about the Treu-Mart Youth Development Fellowship Program, please contact Pat Heilbron at patricia.heilbron@case.edu or at 216.368.1916
Major funding for the Fellowship Program is provided by the Treu-Mart Fund—a supporting organization of the Cleveland Foundation and the Jewish Community Federation of Cleveland.