Is there a business here?
Posted 6.26.15
Michael Goldberg, visiting assistant professor of design & innovation, reports on his trip to Africa. Here he discusses pushing social entrepreneurs out of their comfort zone in Southern Africa.
Michael Goldberg, visiting assistant professor of design and innovation at Weatherhead, is currently on a Fulbight Senior Specialist fellowship in Namibia. He provides this update on his work: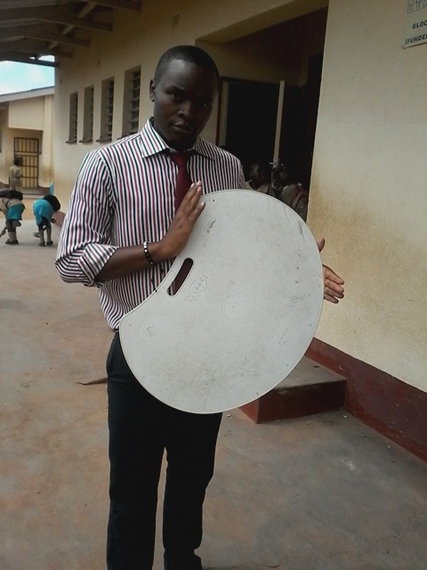 Collins Nyamadzawo walked into a rural Zimbabwean school where he was a volunteer and caught sight of two students sitting on the floor, one using the other's back on which to write. A teacher, energy consultant and entrepreneur in Harare, Collins, now 27, says that the memory of those students stuck with him for two years when a solution to the lack of desks came to him. Collins lights up a room when he talks about his idea¬ to use recycled plastic waste to create lap desks. If Collins can figure out how to manufacture and sell the lap desks, he will elegantly solve two issues that plague Zimbabwe: rid the streets of plastic waste and give students a proper place to write.
Collins and 60 other Zimbabweans, Zambians and Namibians are participants in a social entrepreneurship bootcamp organized by an alum of the Mandela Washington Fellowship, Irene Chikumbo and the US Embassies in Zimbabwe, Zambia and Namibia. In late May and early June 2015, I had the privilege of leading six days of programming for the bootcamp. Other trainers for the bootcamp, which is taking place over the course of several months, include Gretchen Zucker from Ashoka, Kelly McGowan from Going Upstream and Fahad Hassan from Alma.
Like Collins, most of the participants had the social aspect of their business ideas nailed. The bootcamp focused on how social entrepreneurs can thrive (and survive) without relying on traditional donor funding. A crucial first step to success is for an entrepreneur to develop a differentiated product or service that the market is willing to pay for.
Read the rest of Goldberg's latest work on the Huffington Post, "Is There a Business Here? Pushing Social Entrepreneurs Out of Their Comfort Zone in Southern Africa."
---
Interested in learning more about Weatherhead programs? Request more information or apply now, or register for one of over 70 open enrollment courses through Executive Education.
Weatherhead School of Management at Case Western Reserve University cultivates creativity, innovation, and purpose-driven leadership to design a better world.