Are you a manager pursuing competitive advantage in a challenging market with rising environmental and social pressures? Has your organization's "CSR" or sustainability function failed to deliver tangible results?
In this program, you will learn how any organization can embed sustainability for value and profit. Many of the best-run organizations face new environmental and social demands, yet fail to capitalize on the opportunities they create because sustainability is seen as a distraction from core business objectives.
The program is aimed at small and mid-size organizations pursuing sustainability as a way to be more successful, rather than only 'green' or socially responsible. Learn to reframe sustainability as a source of profit, rather than a cost or moral obligation. Distinguish between bolt-on and embedded sustainability, drawing on compelling examples of leading companies. Discover the benefits of going beyond regulatory compliance and explore cutting edge management concepts from Michael Porter, Blue Ocean Strategy, and disruptive innovation as they apply to the challenges of embedding sustainability.
Topics
Learning will be experiential, interactive and focused on real-time business issues, particularly those important for small and mid-size companies. Using case studies based on sustainability leaders of various small to mid-cap organizations such as Fairmount Santrol and Tennant Compant, discover the benefits of going beyond regulatory compliance and explore cutting edge ideas that are at the intersection of business and society such as:
Business risks and opportunities arising from energy needs, food security, water scarcity, global health challenges, demographic shifts, and poverty
Supply chain management and product designs to meet changing societal expectations
New tools and metrics to manage sustainability performance
Individual practices to foster wellbeing and effectively adapt to change
Learning Outcomes
As a result of attending this programs, participants will:
Understand what declining natural resources, radical transparency, and rising expectations mean for you and your organization.
Capitalize on new business opportunities that leverage trends in commodity markets, energy and food security, water scarcity, global health challenges, and demographic shifts.
Manage supply chains, product designs, and business models to meet changing societal expectations.
Apply new tools and metrics to manage sustainability-driven performance
Ask the fundamental "disruptive" questions that are often avoided but risk becoming big game changers in the years ahead
Pursue innovation to serve the "bottom of the pyramid", reaching markets where consumers are currently underserved
Learn how to leverage the strength-based perspective of AI to lead the charge for sustainability
Who Should Attend
The Case Weatherhead School of Management strongly believes that sustainability requires a central place on the executive agenda. As a result, this program is designed for leaders focused on strategic initiatives including:
CEOs, CFOs and other senior managers
Line managers with profit & loss responsibility
Marketing, sales and brand managers
Leaders of Lean and operations improvement
Policy, NGO, non-profit and other public sector leaders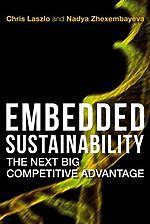 Dr. Chris Laszlo is an Associate Professor in the Department of Organizational Behavior at the Weatherhead School of Management. He is a partner and co-founder of Sustainable Value Partners, a strategy consulting firm working with senior leaders in some of the world's largest companies to transform societal opportunities and risks into sources of competitive advantage. His most recent book, Embedded Sustainability, tops the list of the Caelus Green Room's 10 Great Sustainability Books to Give as Gifts.