Inspiring Engagement and Change: Creating a Culture of Coaching and Development
Using Emotional Intelligence and Coaching with Compassion to Change the Way We Work
(Formerly "Boyatzis on Leadership, Resonance, and Renewal")
If we want dynamic organizations, we have to create a culture of development to complement a culture of performance, results or service. Developing individuals is not enough to change organizations. Goals, strategies, and leaders come and go, but culture lasts for decades (or longer). To inspire customer service and innovation, motivate high engagement and retention, we are challenged to create a culture (i.e. norms and values) of development.

Culture change starts with changing behavior. If coaching becomes a norm in all relationships, the character of an organization changes for the better. It starts with people changing how they act. Then leaders at all levels model the desired behavior. When leaders build resonant relationships, the positive emotional contagion spreads to others. But to build and maintain, you must have a balance of renewal to the barrage of annoying or acute stress that arrives each day.

Dr. Boyatzis is a Distinguished University Professor and a Professor in the Departments of Psychology, Cognitive Science and Organizational Behavior at Case Western Reserve University. He is an extensive researcher and author. Using insights from the latest research, he will explore the link between emotional intelligence and resonant leadership, the underlying psychological and physiological processes that impact performance, and how to create and nurture relationships of deep emotional connection that inspire and sustain us as leaders. Through exercises and discussion, this program will help you advance your development as a leader, and how to develop others and a culture of development.
Instructor
Date and Time
Location
Richard Boyatzis, PhD
Wednesday, Sep. 27, 2023 from 1 p.m. to 5 p.m.
EST
Online - Webinar
Event has Passed
Instructor:
Richard Boyatzis, PhD
Date and Time:
Wednesday, Sep. 27, 2023 from 1 p.m. to 5 p.m.
EST
Location:
Online - Webinar
Event has Passed

Qualifications
Participants must have attended Introduction to Emotional Intelligence prior to attending this program, to gain intermediate background knowledge.
Topics

Renewals versus stress (personal strategies for managing the balance)
Creating resonant relationships through shared vision, shared compassion and shared energy
Using coaching with compassion to enhance relationships and develop others
Learning Outcomes
As a result of attending this program, participants will:
Understand the neuro-endocrine basis of the damage from chronic stress and how renewal experiences create sustainable, adaptive, and resilient performance
Identify a variety of activities that will help them build renewal into their daily work and life
Understand how coaching with compassion, inspiring hope, and being more mindful leads to sustainable improvements in emotional intelligence, and significant benefits to the coach and those with whom they are working
Practice mindfulness
Leverage their leadership by developing a culture of development in their organization
Who Should Attend
Managers of all functional areas and experience levels who are interested in building more effective working relationships. Most applicable to those with at least one year of experience managing others. Pairs and teams from the same organization are encouraged to attend together.
Program Reading
The following texts are included with the program materials:
Helping People Change by Richard Boyatzis, Melvin Smith and Ellen Van Oosten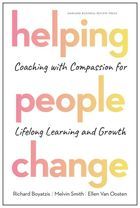 Costs
Individual Participants: $695
Package Pricing: 1 class day per participant